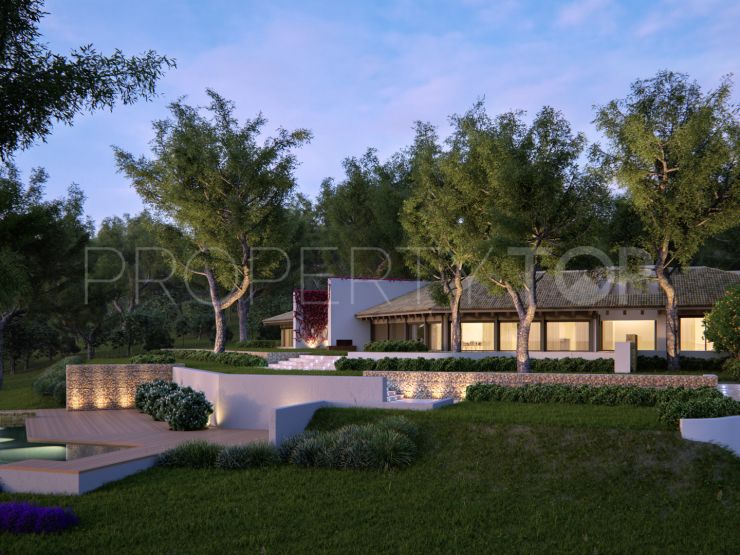 ref

186-00296P

bedrooms

5

bathrooms

5

built

500 m²

plot

50.000 m²

pool

With pool

garden

Private

garage

Private

epc

EPC
Exclusive Hacienda with vineyard
La Melonera Haciendas is an exclusive "Wine Country Club" with 28 private wine estate and a centralized wine cellar. Each hacienda has its own "garage wine" from old Andalucía's vines recovered by our team, and planted on each of the 28th private vineyards. It is a unique wine project in the world, you will be inspired!
"La Melonera Haciendas" is located in the south of Spain, in the region of Andalucía, known as the "heart of Spain" because of its millenary culture, cities, gastronomy and unique traditions. The city of Ronda, where the project has been developed, is located on an astonishing 200 high cliff, surrounded by a millenary winemaking history and by a unique and unexploited landscape. A place to spend 365 days in an amazing cultural environment with numerous activities such as a private Formula 1 racetrack and only 45 minutes away from Marbella.
"La Melonera Haciendas" provides its owners not only with a top of the line team of wine experts but also with all the maintenance of the houses, its security, its gardening and top-notch hospitality services provides to each estate.
WHAT DOES LA MELONERA HACIENDAS OFFER:
28 Wine Haciendas, a central cellar, a Wine County Club and Guest house Hacienda as well as 28 private vineyards distributed on each of one of the Haciendas. Haciendas Plots vary from 55.000 sqm to 88.000 sqm (13,6 to 21,7 acres). The size of each Hacienda varies between 600 sqm to 1.100 sqm which includes a private cellar, an ozone swimming pool, three underground parking places and top of the art domotic system. La Melonera has its own building team and project manager in order to control the quality of the construction materials, the ten-year quality control insurance, the environmental requirements of the Master Plan and the Government laws that protect the land and the environment where La Melonera is located.
COSTS AND EXPENSES
La Melonera Haciendas fully equipped with a swimming pool range from 3.600.000 Euros to 5.100.000. Monthly expenses for the vineyard and the wine production (cost of bottles, personalized labels and boxes are not included) vary from 1.300euros/month to 2.300euros/ month as far as all the hacienda vineyards have a different size and production capacity. Monthly expenses for the Hacienda maintenance, its administration, its security, its vegetable garden and forest fire prevention works varies from 1,800 euros/month to 2.500 euros/month.
LA MELONERA OWNERS/GUESTS SERVICES
Shuttle from/to the airport/train station. Cleaning services. Cooking and show cooking. Other garden works upon request. Booking services for any kind of activity or services. Vegetable garden products delivery to the owner's city of residence.
Each hacienda has its private vineyard with Hacienda wine production (MHV wines) of 500 bottles, only the yearly "top" grapes at each vineyard (15%-20%) go to MHV Hacienda wines. La Melonera, with its full hospitality services, provides its owner with an optional service to rent the properties in case they decided not to spend time there. It has signed exclusive agreements with top real estate luxury rental companies. La Melonera's owners are automatically full members of the world's most unique and exclusive car racing club, the "Ascari Race Resort" located just 6 km away.
HACIENDAS WINES – MHV – RECENT AWARDS
In 2009, La Melonera Haciendas was declared by the Andalucía Government as a National Interesting Project because of its research and the recovery of a national treasure, the old Andalucía vines. In 2105 La Melonera was also awarded an "Environmental award on the landscape preservation".
In 2014 La Melonera's second Hacienda wine (MHV02 Mankind Heritage vines 02) was awarded as one of the best 250 Spanish wines at "Salon de Grandes Vinos de España" among the18.500 tasted wines. Production was 530 bottles.
In 2015 La Melonera's third Hacienda wine MHV from the Hacienda El Montecillo was also awarded as one of the best 250 Spanish wines. Total production 650 bottles
In 2017, MHV wines were awarded a score of 95 points in the guide of Peñin (comparable with the Parker scale).
RONDA AN AMAZING CITY FOR CULTURAL AND LEISURE ACTIVITIES
Malaga and Marbella stand as the most exclusive and luxury shopping centres in southern Europe. From Marbella to Algeciras there are more than 60 golf courses and is considered by Golf Magazine as the best all year round golf destination in the world with 320 days of sunshine. Marbella and its famous "Beach Clubs" and Cadiz with one of the longest and most natural beaches in Southern Europe provide tourists with the unique charm and natural beauty of Spain's southern coast. Ronda has Europe's second oldest riding school "La Maestranza de Caballería de Ronda" Established in 1573. Granada, Seville and Cordoba stand as three of the UNESCO World Heritage cities. For winter activities, the Sierra Nevada, which is a 150 km drive, is Spain's highest ski resort and provides all winter activities from November until late April. One day visit to Africa (Morocco). Airports/train stations: i) Malaga is the fourth largest airport in Spain with more than 90 daily destinations. Malaga AVE train station (bullet train 300km./hour) is only 2h30 away from Madrid airport.
We invite you to visit "La Melonera Wine Country Club" and re-write your goals. It's time to celebrate life!